Take Stock in Children
---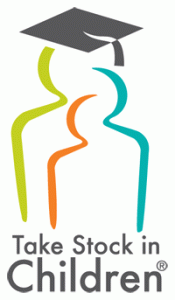 As a continued effort in community outreach, the Panhandle Job Fair Foundation proudly sponsors Take Stock in Children; a public-private partnership of state government, businesses, school systems, social service agencies, civic and religious organizations, and private citizens making a measurable difference in the lives of low-income children. The comprehensive program helps children succeed by providing college and vocational scholarships, volunteer mentors, student advocates/case managers, tutoring, early intervention, and long-term support. Each scholarship provided assists children from the 6th grade through college. For more information, please visit the Take Stock in Children website at Take Stock in Children.
Panhandle Job Fair Foundation Student Scholar Update – March 2023
We are very pleased to provide an update on the Panhandle Job Fair Foundation's support of Take Stock in Children.  At the March 15, 2023 Job Fair we presented Take Stock in Children with a donation of $8,000.00 to support positive changes for youth in our community.