Take Stock in Children
---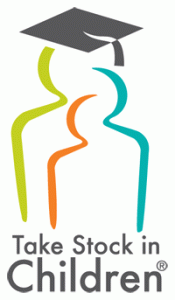 As a continued effort in community outreach, the Panhandle Job Fair Foundation proudly sponsors Take Stock in Children; a public-private partnership of state government, businesses, school systems, social service agencies, civic and religious organizations, and private citizens making a measurable difference in the lives of low-income children. The comprehensive program helps children succeed by providing college and vocational scholarships, volunteer mentors, student advocates/case managers, tutoring, early intervention and long-term support. Each scholarship provided assists children from the 6th grade through college. For more information, please visit the Take Stock in Children website at Take Stock in Children.
Panhandle Job Fair Foundation Student Scholar Update – July 2015
We are very pleased to provide an update on the Panhandle Job Fair Foundation's support of Take Stock in Children. The students below have been provided full (four year college tuition) scholarships through the mission of the Panhandle Job Fair Foundation. These students are representative of the north, central and south geographic areas of Okaloosa County.
Adam Crowson, University of Florida (Baker School graduate)
Adam is pursuing the pre-medicine program at the University of Florida. His plan is to pursue acceptance into medical school at UF, and he continues to research and consider a variety of medical specialties as a future physician.   He is involved in student ministries and leads in worship music at the Baptist Student Union on campus.
Zachary Frame, University of Central FL (Choctawhatchee High graduate)
In 2015, Zachary started at UCF where he is majoring in biology. His future plans include a master's degree in biology and possibly working in research or as a field biologist for FL Fish and Wildlife.
Sarah West, Collegiate High School of NWF State College
Sarah earned an AA degree from NWF State College in 2015, along with her high school diploma. Sarah plans to pursue a Bachelor's in Nursing from University of West FL.
Hannah Lindsay, Baker School
Hannah Lindsay graduated from Baker School in June 2015. She was dually enrolled at NWF State College and had already earned 30 college credits upon her high school graduation. Hannah plans to attend Florida State University and will major in Hospitality Management. Her future plans include owning a wedding planning business and becoming a published author.
Alyssa Matthews, Crestview High School
Alyssa is currently enrolled at CHS where she is taking AP/Honors academic classes, as well as two Honors Chorus classes. She is also in the Culinary program. Her future plans include the pursuit of a bachelor's degree in music education from Florida State University and a career in choral music.